Size Charts
Clothing
| SIZE | HEIGHT | WEIGHT | CHEST | WAIST | HIP |
| --- | --- | --- | --- | --- | --- |
| 2T | 33 - 36 in | 30 - 33 lbs | 21 in | 20½ in | 21½ in |
| 3 | 36 - 39 in | 33 - 36 lbs | 21½ in | 21 in | 22 in |
| 4 | 39 - 42 in | 36 - 40 lbs | 22½ in | 21½ in | 23¼ in |
| 5 | 42 - 45 in | 40 - 44 lbs | 23½ in | 22 in | 24½ in |
| 6 | 45 - 48 in | 44 - 52 lbs | 24½ in | 22½ in | 25¾ in |
| 7 | 48 - 51 in | 52 - 62 lbs | 25½ in | 23 in | 27 in |
| 8 | 51 - 54 in | 62 - 72 lbs | 27 in | 23½-24 in | 28-28½ in |
| 10 | 54 - 58 in | 72 - 82 lbs | 28 - 28½ in | 24½ - 25 in | 29 - 30 in |
| 12 | 58 - 60 in | 82 - 94 lbs | 29 - 30 in | 25½ - 26 in | 30 - 31½ in |
| 14 | 60 - 62 in | 94 - 106 lbs | 30½ - 31½ in | 26½ - 27 in | 31 - 32½ in |
| 16 | 62 - 64 in | 106 - 115 lbs | 32 - 33 in | 27½ - 28 in | 33 - 34½ in |
| 18 | 64 - 66 in | 115 - 125 lbs | 33½ - 34½ in | 28½ in | 35 - 36½ in |
Shoes
| US Size | Euro Size | UK Size | Foot Length |
| --- | --- | --- | --- |
| 4 | 19 | 3 | 4½ in |
| 5 | 20 | 4 | 4¾ in |
| 6 | 22 | 5 | 5⅛ in |
| 7 | 23 | 6 | 5½ in |
| 8 | 24 | 7 | 5¾ in |
| 9 | 25 | 8 | 6⅛ in |
| 10 | 27 | 9 | 6½ in |
| 11 | 28 | 10 | 6¾ in |
| 12 | 30 | 11 | 7⅛ in |
| 13 | 31 | 12 | 7½ in |
| 1K | 32 | 13 | 7¾ in |
| 2K | 33 | 1 | 8⅛ in |
| 3K | 34 | 2 | 8½ in |
| 4K | 36 | 3 | 8¾ in |
| 5K | 37 | 4 | 9⅛ in |
Socks & Tights
| SIZE | HEIGHT | WEIGHT |
| --- | --- | --- |
| 2-3 | 33-39 in | 30-36 lbs |
| 4-5 | 39-45 in | 36-44 lbs |
| 6-8 | 45-54 in | 44-74 lbs |
| 10-12 | 54-60 in | 74-98 lbs |
Hats
| SIZE | HEAD CIRCUMFERENCE |
| --- | --- |
| 2-3 | 20-20.5 in |
| 4-5 | 20.5-21 in |
| 6-8 | 21-21.5 in |
| 10-12 | 22 in |
Belts
| SIZE | WAIST SIZE |
| --- | --- |
| 2-3 | 20½-21 in |
| 4-5 | 21½-22 in |
| 6-8 | 22½-24 in |
| 10-12 | 24½-26 in |
Clothing
| SIZE | HEIGHT | WEIGHT | CHEST | WAIST | HIP |
| --- | --- | --- | --- | --- | --- |
| 3 - 6 m | 23 - 25 in | 12 - 17 lbs | 17½ in | 18½ in | 19 in |
| 6 - 12 m | 25 - 29 in | 17 - 22 lbs | 18½ in | 19 in | 20 in |
| 12 - 18 m | 29 - 31 in | 22 - 27 lbs | 19½ in | 19½ in | 21 in |
| 18 - 24 m | 31 - 33 in | 27 - 30 lbs | 20½ in | 20 in | 22 in |
Shoes
| US Size | Euro Size | UK Size | Foot Length |
| --- | --- | --- | --- |
| 4 | 19 | 3 | 4½ in |
| 5 | 20 | 4 | 4¾ in |
Socks and Tights
| Size | Height | Weight | Shoe Size: US |
| --- | --- | --- | --- |
| 0-3 m | 19-23 in | 8-12 lbs | 1 |
| 0-6 m | 19-25 in | 8-17 lbs | 1-2 |
| 3-6 m | 23-25 in | 12-17 lbs | 2 |
| 6-12 m | 25-29 in | 17-22 lbs | 3-4 |
| 12-18 m | 29-31 in | 22-27 lbs | 4-5 |
| 12-24 m | 29-33 in | 22-30 lbs | 5-6 |
| 18-24 m | 31-33 in | 27-30 lbs | 6 |
Hats
| SIZE | Head Circumference |
| --- | --- |
| Newborn | 15 in |
| 0-3 m | 16.5 in |
| 0-6 m | 16.5-17.5 in |
| 3-6 m | 17.5 in |
| 6-9 m | 18 in |
| 6-12 m | 18-18.5 in |
| 12-18 m | 19 in |
| 12-24 m | 19-19.5 in |
| 18-24 m | 19.5 in |
Clothing
| SIZE | HEIGHT | WEIGHT | CHEST | WAIST | HIP |
| --- | --- | --- | --- | --- | --- |
| 2T | 33 - 36 in | 30 - 33 lbs | 21 in | 20½ in | 21½ in |
| 3 | 36 - 39 in | 33 - 36 lbs | 21½ in | 21 in | 22 in |
| 4 | 39 - 42 in | 36 - 40 lbs | 22½ in | 21½ in | 23¼ in |
| 5 | 42 - 45 in | 40 - 44 lbs | 23½ in | 22 in | 24½ in |
| 6 | 45 - 48 in | 44 - 52 lbs | 24½ in | 22½ in | 25¾ in |
| 7 | 48 - 51 in | 52 - 62 lbs | 25½ in | 23 in | 27 in |
| 8 | 51 - 54 in | 62 - 74 lbs | 27 in | 23½-24 in | 28-28½ in |
| 10 | 54 - 58 in | 74 - 86 lbs | 28 - 28½ in | 24½ - 25 in | 29 - 29½ in |
| 12 | 58 - 60 in | 86 - 98 lbs | 29 - 29½ in | 25½ - 26 in | 30 - 30½ in |
| 14 | 60 - 62 in | 98 - 110 lbs | 30 - 30½ in | 27 in | 31 - 31½ in |
| 16 | 62 - 65 in | 110 - 120 lbs | 31 - 32 in | 28 in | 32 - 32½ in |
| 18 | 65 - 68 in | 120 - 130 lbs | 32½ - 33½ in | 28½ in-29½ in | 33 - 34½ in |
Shoes
| US Size | Euro Size | UK Size | Foot Length |
| --- | --- | --- | --- |
| 4 | 19 | 3 | 4½ in |
| 5 | 20 | 4 | 4¾ in |
| 6 | 22 | 5 | 5⅛ in |
| 7 | 23 | 6 | 5½ in |
| 8 | 24 | 7 | 5¾ in |
| 9 | 25 | 8 | 6⅛ in |
| 10 | 27 | 9 | 6½ in |
| 11 | 28 | 10 | 6¾ in |
| 12 | 30 | 11 | 7⅛ in |
| 13 | 31 | 12 | 7½ in |
| 1K | 32 | 13 | 7¾ in |
| 2K | 33 | 1 | 8⅛ in |
| 3K | 34 | 2 | 8½ in |
| 4K | 36 | 3 | 8¾ in |
| 5K | 37 | 4 | 9⅛ in |
Socks
| SIZE | SOCKS |
| --- | --- |
| 2-3 | 7-9 |
| 4-5 | 10-11 |
| 6-8 | 12-2K |
| 10-12 | 3K-5K |
Hats
| SIZE | Head Circumference |
| --- | --- |
| 2-3 | 20-20.5 in |
| 4-5 | 20.5-21 in |
| 6-8 | 21-21.5 in |
| 10-12 | 22 in |
Belts
| SIZE | WAIST SIZE |
| --- | --- |
| 2-3 | 20½-21 in |
| 4-5 | 21½-22 in |
| 6-8 | 22½-24 in |
| 10-12 | 24½-26 in |
Clothing
| SIZE | HEIGHT | WEIGHT | CHEST | WAIST | HIP |
| --- | --- | --- | --- | --- | --- |
| 3 - 6 m | 23 - 25 in | 12 - 17 lbs | 17½ in | 18½ in | 19 in |
| 6 - 12 m | 25 - 29 in | 17 - 22 lbs | 18½ in | 19 in | 20 in |
| 12 - 18 m | 29 - 31 in | 22 - 27 lbs | 19½ in | 19½ in | 21 in |
| 18 - 24 m | 31 - 33 in | 27 - 30 lbs | 20½ in | 20 in | 22 in |
Shoes
| US Size | Euro Size | UK Size | Foot Length |
| --- | --- | --- | --- |
| 4 | 19 | 3 | 4½ in |
| 5 | 20 | 4 | 4¾ in |
Socks
| Size | Height | Weight | Shoe Size: US |
| --- | --- | --- | --- |
| 0-3 m | 19-23 in | 8-12 lbs | 1 |
| 0-6 m | 19-25 in | 8-17 lbs | 1-2 |
| 3-6 m | 23-25 in | 12-17 lbs | 2 |
| 6-12 m | 25-29 in | 17-22 lbs | 3-4 |
| 12-18 m | 29-31 in | 22-27 lbs | 4-5 |
| 12-24 m | 29-33 in | 22-30 lbs | 5-6 |
| 18-24 m | 31-33 in | 27-30 lbs | 6 |
Hats
| SIZE | Head Circumference |
| --- | --- |
| Newborn | 15 in |
| 0-3 m | 16.5 in |
| 0-6 m | 16.5-17.5 in |
| 3-6 m | 17.5 in |
| 6-9 m | 18 in |
| 6-12 m | 18-18.5 in |
| 12-18 m | 19 in |
| 12-24 m | 19-19.5 in |
| 18-24 m | 19.5 in |
Clothing
| SIZE | HEIGHT | WEIGHT | CHEST | WAIST | HIP |
| --- | --- | --- | --- | --- | --- |
| Preemie/Up to 5 lbs | Up to 17 in | Up to 5 lbs | - | - | - |
| Newborn | 17 - 18 in | 5 - 8 lbs | 15½ in | 16 in | 16½ in |
| 0 - 3 m | 19 - 23 in | 8 - 12 lbs | 16½ in | 17½ in | 18 in |
| 3 - 6 m | 23 - 25 in | 12 - 17 lbs | 17½ in | 18½ in | 19 in |
| 6 - 12 m | 25 - 29 in | 17 - 22 lbs | 18½ in | 19 in | 20 in |
| 12 - 18 m | 29 - 31 in | 22 - 27 lbs | 19½ in | 19½ in | 21 in |
| 18 - 24 m | 31 - 33 in | 27 - 30 lbs | 20½ in | 20 in | 22 in |
| SIZE | HEIGHT | WEIGHT | CHEST | WAIST | HIP |
| --- | --- | --- | --- | --- | --- |
| Preemie/Up to 5 lbs | Up to 17 in | Up to 5 lbs | - | - | - |
| Newborn | 17 - 18 in | 5 - 8 lbs | 15½ in | 16 in | 16½ in |
| 0 - 3 m | 19 - 23 in | 8 - 12 lbs | 16½ in | 17½ in | 18 in |
| 3 - 6 m | 23 - 25 in | 12 - 17 lbs | 17½ in | 18½ in | 19 in |
| 6 - 12 m | 25 - 29 in | 17 - 22 lbs | 18½ in | 19 in | 20 in |
| 12 - 18 m | 29 - 31 in | 22 - 27 lbs | 19½ in | 19½ in | 21 in |
| 18 - 24 m | 31 - 33 in | 27 - 30 lbs | 20½ in | 20 in | 22 in |
Shoes
| US Size | Euro Size | UK Size | Foot Length |
| --- | --- | --- | --- |
| 0/Newborn | - | - | 3¼ in |
| 1/0-3m | 16 | 0.5 | 3½ in |
| 2/3-6m | 17 | 1 | 3¾ in |
| 3/6-12m | 18 | 2 | 4⅛ in |
| 4/12-18m | 19 | 3 | 4½ in |
| 5/18-24m | 22 | 4 | 5 in |
Socks and Tights
| Size | Height | Weight | Shoe Size: US |
| --- | --- | --- | --- |
| 0-3 m | 19-23 in | 8-12 lbs | 1 |
| 3-6 m | 23-25 in | 12-17 lbs | 2 |
| 6-12 m | 25-29 in | 17-22 lbs | 3-4 |
| 12-18 m | 29-31 in | 22-27 lbs | 4-5 |
| 18-24 m | 31-33 in | 27-30 lbs | 5 |
Hats
| SIZE | Head Circumference |
| --- | --- |
| Newborn | 15 in |
| 0-3 m | 16.5 in |
| 0-6 m | 16.5-17.5 in |
| 3-6 m | 17.5 in |
| 6-9 m | 18 in |
| 6-12 m | 18-18.5 in |
| 12-18 m | 19 in |
| 12-24 m | 19-19.5 in |
| 18-24 m | 19.5 in |
Clothing
| SIZE/WEIGHT | HEIGHT |
| --- | --- |
| 0 - 7 lbs | Up to 19 in |
| 7 - 10 lbs | 19 - 23 in |
Unisex Clothing
| SIZE | INSEAM | CHEST | WAIST | HIP |
| --- | --- | --- | --- | --- |
| XXS | 30 in | 33 in | 27 in | 35 in |
| XS | 30½ in | 35 in | 28 in | 37 in |
| S | 31 in | 37 in | 30 in | 39 in |
| M | 31½ in | 40 in | 33 in | 42 in |
| L | 32 in | 44 in | 37 in | 45 in |
| XL | 32 in | 48 in | 41 in | 49 in |
| XXL | 32½ in | 52 in | 45 in | 53 in |
Women's Clothing
| SIZE | BUST | Natural Waist | HIP |
| --- | --- | --- | --- |
| XXS (000 - 00) | 30½ - 31½ in | 24 - 25 in | 33½ - 34½ in |
| XS (0 - 2) | 32 - 33 in | 24½ - 25½ in | 35½ - 36½ in |
| S (4 - 6) | 34 - 35 in | 26½ - 27½ in | 37½ - 38½ in |
| M (8 - 10) | 36 - 37 in | 28½ - 29½ in | 39½ - 40½ in |
| L (12 - 14) | 38½ - 40 in | 31 - 32½ in | 42 - 43½ in |
| XL (16) | 41½ in | 34 in | 45 in |
Men's Clothing
| Size | Waist | Chest |
| --- | --- | --- |
| S | 29-31 in | 36-37 in |
| M | 32-34 in | 38-40 in |
| L | 35-37 in | 41-44 in |
| XL | 38-40 in | 45-48 in |
Janie and Jack Dog
| SIZE | NECK GIRTH | CHEST GIRTH | WEIGHT | RECOMMENDED BREED |
| --- | --- | --- | --- | --- |
| XS | 9 - 10 in | 12 - 14 lbs | Under 6 lbs | Yorkshire Terrier, Chihuahua, Maltese, Toy Poodle |
| S | 11 - 12 in | 15 - 17 in | 6 - 10 lbs | Jack Russell, Maltipoo, Miniature Pinscher |
| M | 13 - 15 in | 18 - 20 in | 11 - 20 lbs | Havenese, Shih Tzu, Pug |
| L | 16 - 17 in | 21 - 23 in | 21 - 29 lbs | Beagle, Cocker Spaniel, Basenji, Springer Spaniel, French Bulldog |
| XL | 18 - 19 in | 24 - 26 in | 30 - 45 lbs | English Bulldog, Schnauzer, Corgi, Border Collie, Whippet |
---
Follow the measuring tips below to find the correct size and best fit for your child.
For best results, have your child wear little to no clothing and use a fabric tape measure.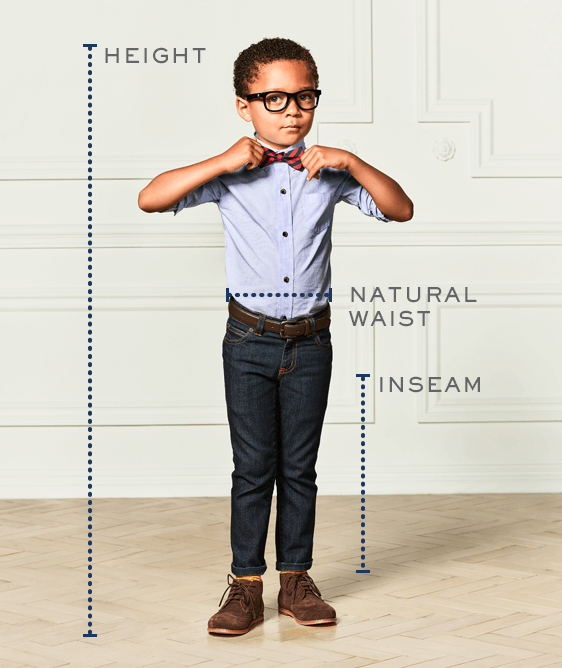 you're invited
Join the list for 10% off your first purchase* and discover new collections before anyone else.

*Valid for first-time US registrants only. Exclusions apply. Details.Privacy Policy.